#1 Auto Glass Company in Robertsdale Alabama!
Call now for deals! (251) 348 1852
For Assistance, Please Call
Mission
Chambers Auto Glass is driven to help anyone in need of the highest-quality auto glass replacement and repair at the lowest prices.
Quality Glass
We set the leading standard of great customer service, premier glass replacement, efficient and accurate installations in the auto glass business.
Values
We are tired of seeing big glass companies take advantage of people, over charging and causing damages. We take pride in caring for you first.
#1 Robertsdale, AL Auto Glass Repair & Replacement Company
Call Chambers Auto Glass at 251-348-1852! We get you the lowest prices!
Don't overpay for Auto Glass Repair or Replacements. Our competitors make sure to get the most out of your pocket.

We Don't.

That's why we have lowest prices guaranteed in Robertsdale, Alabama!
We Only Offer The Highest Quality Glass In Robertsdale, Alabama! Guaranteed!
Looking for windshield services from the experts in Robertsdale, Alabama?
Have a chip or crack in your auto glass? Poor driving conditions or even bad weather can damage your windshield with projectiles like rocks on the road, debris, or even hail. Whether the damage is on your windshield, rear or side window, services from our Chambers Auto Glass team can help.
Our technicians have over 32 years of experience at Chambers Auto Glass.  We provide the finest and fastest auto glass repair and replacement for Robertsdale, Alabama.
If you need auto glass repair or replacement, or window regulator repair, you can trust the experts at Chambers Auto Glass. Call Now at 251-348-1852!
Our Windshield Repair Starts at $45
We make sure you get the best prices in Auto Glass Repair and Replacement. Guaranteed.
What is the difference between a chip and crack in a windshield?
Replace your windshield when the above factors aren't met. It's always best to have your auto glass inspected by a professional in person. But as a rule of thumb, you'll want to replace your auto glass if:
The glass is tempered glass, not laminated glass
The crack is longer than a dollar bill
The crack or chip is deep enough that it penetrated more than halfway into the windshield
The crack or chip extends to the outside edge of the windshield
Safety
Above all, safety is paramount. Many consumers think it's okay to drive around with a crack in their windshield. It's not—in fact this can pose a safety risk.
In a front end collision, the windshield provides up to 45% of the structural integrity of the cabin of the vehicle and in a rollover, up to 60%, according to the Auto Glass Safety Council. What does that mean when that rock, or other debris, hits your windshield and causes damage? It means that when it's time to fix that chip or crack, you will want to choose a company that will install the windshield properly.
It's important to ensure the structural integrity of your windshield, so have your windshield evaluated by Chambers Auto Glass as soon as possible and make any recommended repairs.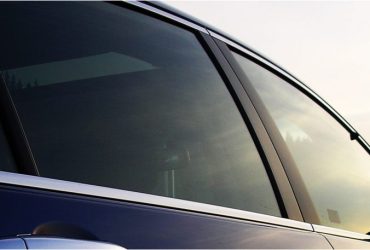 We provide expert consultation and accurate price estimate for glass replacement. We are a Preferred Provider of major insurance companies and will file the claim for you.
Rock chip and crack repairs start at $45! Our prices are lower than competitors! Get all your auto glass repair done right. The first time! We drive to you, FREE OF CHARGE!
We Are The Best In Auto Glass
Call Now For Affordable Auto Glass Repair & Replacement!

Call us: 251-348-1852
chambersautoglassllc@gmail.com
We Serve All Of Baldwin County, Alabama
What does a windshield do for a vehicle and why do you need it?
The windshield is a part of a vehicle that offers multiple benefits. Not only does it provide structural support to the car, but it also protects the occupants of the vehicle from the environmental hazards and accidents. If the windshield is cracked or damaged, there is always a greater risk of breaking during a collision. It can be a major safety issue as the vehicle roof can also collapse. Needless to say, it is an aesthetic blemish on the vehicle. Hence, it is imperative for vehicles to be driven with a perfect and properly placed windshield to avoid further damage to the vehicle and human lives.
Benefits of a Clean Auto Glass Windshield in Robertsdale, Alabama
Small things such as dirt, bugs, and other grime can quickly stick up on your car windshield. You want your car glass and windshield clean to maintain maximum visibility. You will have to clean the car glass properly to completely remove the contaminants and get that clear and perfect shine.
The benefits of having a clean windshield.
Obviously, a clean windshield will give you a good look at the road. With a great looking car glass you can see right through without problems.
You can see the big difference when driving in bad weather condition. Filthy or contaminated windshield and those little things embedded and jammed in your glass can cause water to stay longer on the glass and affect your road visibility. When you have a nice clean surface those little things will just fly right off making it easy for you to see the road and safer when driving.
Another benefit is it actually prevents untimely wear and tear of the windshield wipers. Those dust and debris sticking up the glass reduce visibility and can damage the windshield wipers as you tend to go faster with your wipers to clear up the glass.
You don't have to put up with a filthy and contaminated windshield when driving. There are products available to help clean and remove things that tend to stick in the windshield quickly and easily. It is important to keep your car glass and windshield whenever you use your car. A nice clean glass will make your car safer when driving especially when the weather is not friendly.
Why you should change or repair your windshield if it is damaged.
Regardless of where you live, your windshield may take a beating. There could be pea gravel falling from uncovered construction trucks, sanitation vehicles laying down salt and sand when the weather calls for it and the occasional chunk of unknown debris kicked up by cars passing by.
If your vehicle's windshield gets chipped or cracked, should you repair or replace it? Regardless of where you live, your windshield may take a beating. There could be pea gravel falling from uncovered construction trucks, sanitation vehicles laying down salt and sand when the weather calls for it and the occasional chunk of unknown debris kicked up by cars passing by.
What is the difference between a chip and crack in a windshield?
Minor windshield damage normally comes in two major forms – chips and cracks. A chip is generally damage in the windshield that clearly marks the point of impact by debris. This point of impact can be in the form of a star break (short cracks forming outward from the center), bulls-eye (circular), partial bulls-eye (half-moon shape), crack chip (small crack less than _ inch), or pit (gouge). Cracks create a distinct line in the glass that can range from under an inch up to the width of your windshield. They generally run horizontally in a straight or somewhat wavy line.
Can your windshield auto glass be repaired?
Keep in mind, this only applies to windshields, which are made of laminated glass. Most side windows and back glass needs to be replaced because they are made with tempered glass which cannot be repaired.
Whether or not your windshield can be repaired depends on three main factors: size, depth, and location. Larger, deeper cracks in the glass that extend to the edges of your windshield are much more likely to need replacement than small shallow chips away from the edges of your windshield. When in doubt, opt for replacement.
Below, we'll look more into these three deciding factors:
Size
Windshield repair technology is a rapidly advancing industry, so the ability to repair large chips or cracks changes often and can vary depending on the repair company. Generally speaking, chips smaller than a quarter, and cracks up to three inches long can be easily repaired. The Repair of Laminated Automotive Glass Standard (ROLAGS) guide, administered by the National Windshield Repair Association (NWRA), specifies limits on repair sizes depending on the type of damage (bulls-eye, pit, crack). with the upper limits of a chip being three inches and a crack up to 14 inches. Again, these sizes may vary depending on the location of the damage, as well as the shop's capabilities. For more technical specifications, check out the full ROLAGS guide the full ROLAGS guide.
Depth
This is closely related to the size of the damage, but in regards to how deep the damage penetrates into the windshield. A windshield is basically a glass sandwich– an outer layer of glass, a plastic inter layer, and an inside layer of glass. If the damage is through the outer and inner layer of glass, it is too deep to perform a windshield repair.
Location
The location of the damage greatly effects the ability to perform a windshield repair. If the damage extends to the outer edge of the glass, there is a greater chance that the structural integrity of the windshield has been compromised. Because the windshield is responsible for up to 60% of structural strength in the event of vehicle rollover, it is imperative that it is replaced properly with a new windshield.
Another place where windshield repair should not be performed is within the driver's line of sight (the glass covered by the driver's windshield wiper). Repairs will often cause some amount of distortion which can impair a driver's view of the road if within their line of sight.
Lastly, damage in the view of sensors such as rain sensors, lane departure warning systems, automatic braking systems, or other automated driver assistance systems (ADAS) related components may not be repairable. These sensors require a crystal clear view and even a near perfect repair may cause malfunctions.
What makes us THE BEST AUTO GLASS COMPANY in Robertsdale, Alabama?
Lowest Prices Guaranteed!
We pride ourselves in offering the most affordable pricing in all of Robertsdale, Alabama
Our technicians will drive to you anywhere in the Baldwin County, Alabama area for FREE. That's a great deal!
We have over 32+ years of Auto Glass experience and are AGSC Certified technicians!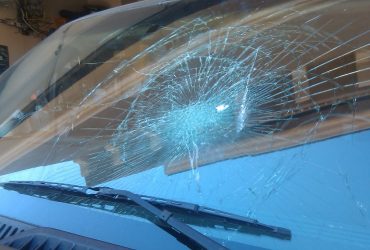 It happens to everyone! A big truck kicks up a big rock and it cracks your windshield going 60. Let's get that annoying crack patched!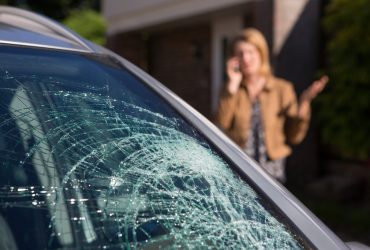 We are experts in chip auto glass repairs. If your windshield got a chip or any similar damage we will make the drive to you free.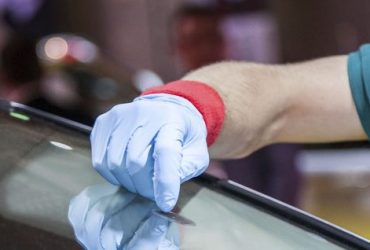 Long Cracks often occur when you already have a small crack, water seeps in and it freezes. Get your glass repair today!